MACH OTCh High Times What A Hoot*** UDX MH (Hooty)
Golden Retriever Stud
Hootie is a smaller dog, weighing around 63 lbs. Even though he is a smaller dog, he is unmistakenly male. He is well balanced with a level top line and correct tail set. Hootie is missing two teeth however, has a correct scissor bite. His pigment is correct and he carries a straight coat of minimal length.
Because of Hooties intelligence, he can be an overthinker, but because of his intelligence he can easily work through that. He requires very little correction to get the desired response. He also bounces back very well from correction. When using the electric collar, he is a "low 2" dog; very rarely has he ever received a correction higher than that. He is very responsive and lives for my praise.
Because of Hooties biddability, drive and pizazz, he is able to excell in a variety of sports. In the obedience ring he is a showman, a true crowd pleaser. His heeling style has often been compared to a "dressage horse." He placed 1st runner up at the 2006 Tampa Obedience Invitational. (That was his first Invitational, he was 3.5 years old.) He is now 4.5 years old, has accumulated 1300 OTCh points and numerous H.I.T. and H.C.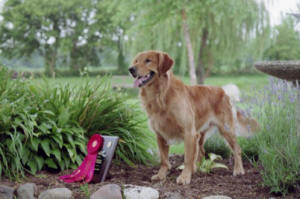 In the field he is extremely fast, both retrieving and returning. He is honest to a fault and a pinpoint marker. He bacame Q.A.A. by placing 2nd in a 44 dog Qualifying Stake before he was four years old.
I have just begun to train him in agility and he is amazing me; fearless and blazing fast.
» For more information contact Bridget Carlsen at 630-552-1155.